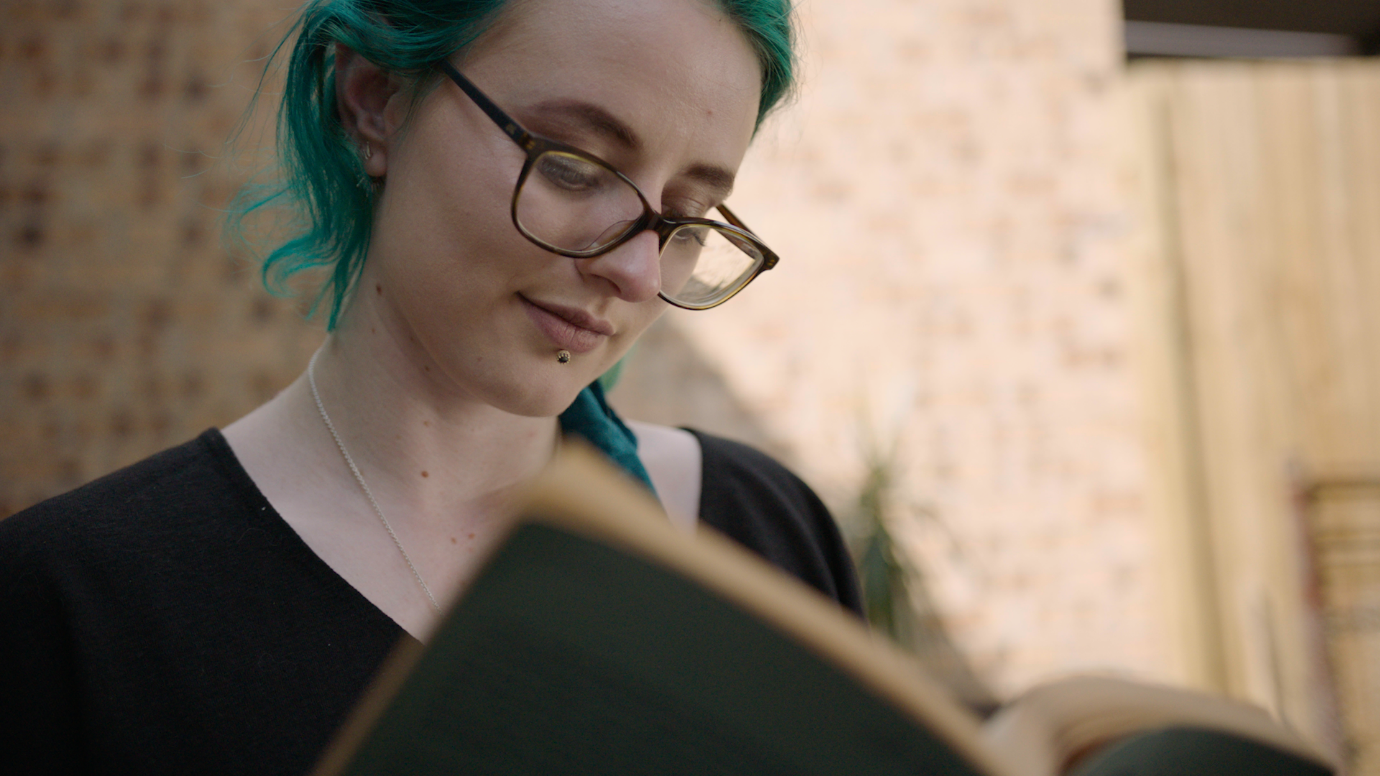 "Navigating the system is so tiring but it is worth it. I know it seems really intimidating but it's not something you have to do by yourself. The best way for me to understand the NDIS was to talk to other people who'd been through it. Through accessing the bureaucratic scheme, I've managed to fill out my life in ways I never thought I'd get to have. I'm happier now than I think I ever have been. For the first time I feel excited about where I'm going and what I have yet to do." – Robin (they/them), is a multiply disabled wheelchair user
---
What is the NDIS?
The National Disability Insurance Scheme (NDIS) started in Australia in 2013. It's the only scheme of its kind in the world.
What is disability?
People with disability include those who have long-term physical, mental, intellectual or sensory impairments which, in interaction with various barriers, may hinder their full participation in society on an equal basis with others.
The term impairment commonly refers to a loss of, or damage to, a physical, sensory or mental function.
The NDIS has a narrower definition of disability for people needing NDIS support.
For the purposes of becoming a participant in the NDIS the focus of disability is on the reduction or loss of an ability to perform an activity which results from an impairment.
This narrower definition of disability used by the NDIS seeks to pinpoint those people with disability who have a significant impairment to their functional capacity. This functional definition of disability focuses on outcomes for people with disability who are in the most need.
The NDIS Act
The objectives and guiding principles of the NDIS Act are to:
 support the independence and social and economic participation of people with disability;
provide reasonable and necessary supports, including early intervention supports, for participants in the NDIS;
enable people with disability to have choice and control in  pursuing their goals and the planning and delivery of their supports;
facilitate the development of a nationally consistent approach to the access to, planning and funding of supports for people with disability;
promote the provision of high quality supports that enable people with disability to maximise independent lifestyles and full inclusion in the community;
protect and prevent people with disability from experiencing harm arising from poor quality or unsafe supports or services provided under the NDIS;
raise community awareness of the issues that affect the social and economic participation of people with disability, and facilitate greater community inclusion of people with disability.
The key guidelines for accessing the NDIS are set out in Section 24 of the NDIS Act.
---
Am I Eligible for NDIS?
"I've only been on it for six months, but the NDIS has changed my life profoundly. You can start out feeling like a cog in a machine but once you come out the other end, it's been life changing and I'm so grateful for all the support I'm receiving" – Finn (he/him), lives with Cerebral Palsy
You may be able to receive supports from the NDIS if all of the following apply to you:
You're between 7 and 65 years old at the time you apply. You must have what is classified as "permanent" and "significant" disability. A

 

permanent

 

disability means your disability is likely to be lifelong – this means you will always have the disability, it is not something you can recover or be "cured" of. A

 

significant

 

disability has a substantial impact on your ability to complete everyday activities.
Your disability can be intellectual, physical, sensory, cognitive and/or psychosocial (mental health).
You may meet the requirements for the NDIS if:
You have permanent disability that impacts on your daily life;
The impairment or impairments result in substantially reduced functional capacity to undertake, or psychosocial functioning in undertaking, one or more of the following areas/activities: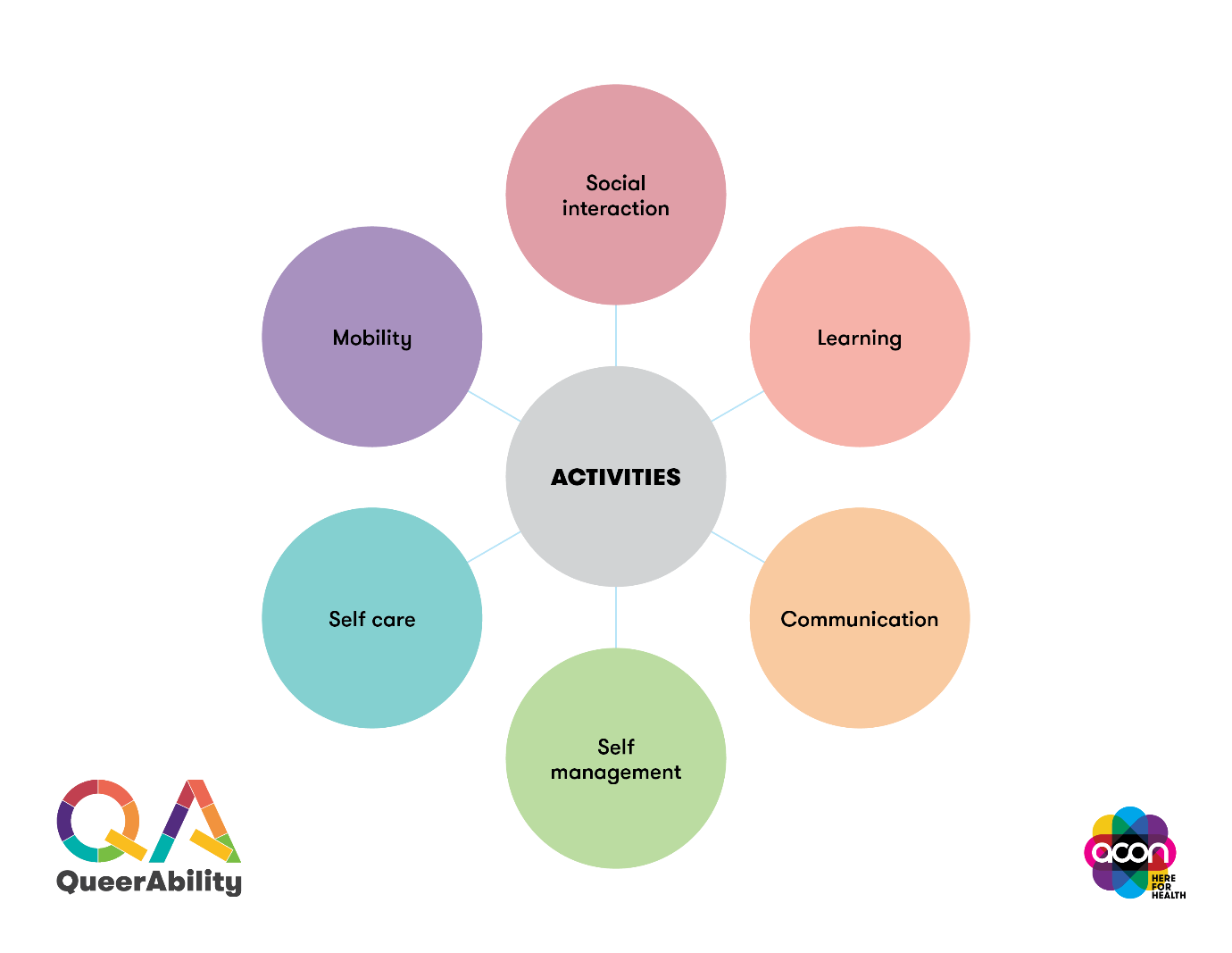 Note: The NDIS uses the language/word "impairment". Having to think about yourself in terms of "impairments" can be painful, upsetting and not the way we want to live our lives. It's important to remember that the NDIS is just a tool to help us live our lives – It's not our whole lives as disabled people – there are many parts of you that the NDIS doesn't relate to.
---
What support can I get from the NDIS?
NDIS supports fall under three categories: Core supports, Capacity Building Supports and Capital Supports
Core Support
 
Capital Support
 
Capacity Building Support
Support with activities of daily living

Help with personal activities and household activities

Transport, so you can participate in work and social activities

 

 

Supportive equipment

Home modification design and construction

Mobility equipment

Vehicle modifications

 

 

Therapeutic support

Behavioural supports

Therapy

Workplace support to help you get or keep a job.

 
Core Supports
Core Supports help you with everyday activities, your current disability-related needs and to work towards your goals.
They may include:
Daily Activities:

 

For example, assistance with everyday personal care needs, household cleaning and/or yard maintenance.
Consumables:   Everyday items you may need, for example equipment to help you eat and drink.
Social, community and civic participation:

 

For example, a support worker to assist you to participate in social and community activities.
Transport:

 

This is support that helps you travel to work or other places that will help you achieve the goals in your plan.
Capacity Building Supports
Capacity Building Supports help build your independence and skills to help you reach your long-term goals
These may include:
Support to help you find and maintain an appropriate place to live.
Development and training to increase your skills so you can participate in community, social and recreational activities.
Support with finding & keeping a job
Support to help you develop positive behaviours and interact with others.
Support with improved health & wellbeing, including exercise or diet advice to manage the impact of your disability.
Training, advice and help for you to move from school to further education, such as university or TAFE.
Plan management to help you manage your NDIS plan, funding and paying for services or funding for a Support Coordinator to help you use your plan.
Assessment, training or therapy to help increase your skills, independence and community participation.
Capital Supports
Critical supports include higher-cost pieces of assistive technology, equipment and home or vehicle modifications, and funding for one-off purchases you may need (including Specialist Disability Accommodation  and Supported Independent Living– you can find more information about NDIS housing and living support here).
These may include:
Assistive technology items for mobility, personal care, communication and recreational inclusion such as wheelchairs or vehicle modifications.
Home modifications such as installation of a hand-rail in a bathroom, or Specialist Disability Accommodation for participants who require special housing because of their disability.
"I've gone from being homeless, being fired from a job and a violent relationship and now I've got a new home with a partner and it wouldn't have happened without the NDIS because the supports that I get, give me a foundation that I can do other things on. It's just been remarkable how my life has changed" – Debbie (she/her), lives with psychosocial disability.
---
What will the NDIS not cover?
NDIS will not cover the following:
Supports which are the responsibility of another government system or community service, for example blood sugar monitoring equipment which is the responsibility of the health system.
Things that are not related to your disability, for example entertainment expenses such as movie tickets; or study costs like course fees that apply to all students.
Day-to-day living costs that are not related to your support needs, for example help with the cost of rent or utility bills or every-day groceries like food.
Anything that is likely to cause you harm to or pose a risk to others.
You can find more information on supports provided by the NDIS here.
---
Should I apply for the NDIS?
Only you can decide if the NDIS is right for you.
You might want to discuss it with friends, partners, family, your loved ones and any professional services you use such as your GP, occupational therapist etc.
"Anyone who's thinking about the NDIS, if you're not sure if you qualify or fit the criteria, just call them, they're very willing to help. There's also lots of resources online" – Anthony (he/they/she), lives with Tourette's
---
Find out more about the NDIS Journey
Is the NDIS right for you? | Starting your NDIS application | Your NDIS application was successful – What next? | Your NDIS application was unsuccessful – What next? | Self care and other supports | Language used | Useful Links